You are here:
Home
»
Aircraft Hangar Lighting
Aircraft Hangar Lighting
LED Lighting for Aircraft Hangars
Aircraft hangars are big spaces, high and wide and cavernous. They are used at all hours of the day and night, and allow you to carry out essential maintenance to your aircraft at any time, in any weather.
When you're planning your aircraft hangar lighting, you need to take into account the unique properties of hangars. Hangar lights are available in a wide range of options, but we like LED lighting.
There are many reasons why LED makes for good aircraft hangar lighting:
Good lighting is essential in an aircraft hangar. When you need to repair or carry maintenance work  your aircraft, you require a good light level so you can spot and remedy potentially serious defects. LED lighting is available in a range of wattages, lumen outputs, and LED light 'colours', meaning the optimum lighting levels can be achieved.
Aircraft hangars are BIG spaces with very high ceilings, which makes changing defective and defunct lighting a monstrous job.
LED Hangar lighting with a long life expectancy are a real boon as changing Tradition light bulbs can be an expensive activity.
LED light fittings have a much longer life expectancy than comparable incandescent and halogen lights. From around 2000 hrs in halogen to well over 30,000 hrs with LED
A good quality LED light can last around ten years or more, which means less expense and risk each time you have to replace them. Of course, no light bulbs will last forever, but the less time you need to spend replacing them, the better. Whether your aircraft hangar is meant to make a profit or not, lower spending on energy is something you will benefit from.
Aircraft hangar lighting can be very expensive to run. With work often going on through the night, and with a need for good light for repair and maintenance work at all times, hangar lights can be on a lot of the time. Minimal running cost is important. As a rule, LED lights are around one-quarter of the energy to run as an equivalent incandescent light, which not only means you save a lot of money over the long term, but also that your aircraft hangar is now that bit more eco-friendly.
Glare can be an issue with any lighting. LED lights are pretty strong in comparison to fluorescent lights, so fewer may be required. A lighting specialist will be able to help you design the right configuration of lights for your hangar, and minimise the potential for glare.
Please ask an LED lighting professional to help you find the perfect hangar lights and to design your lighting system, to find the ideal lighting solution for your unique hangar, ramp or apron.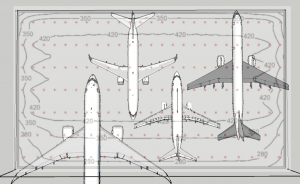 So while LED lighting may initially sound more expensive, especially for a large unit such as an aircraft hangar, the advantages are numerous and will result in a lower spend over the long term. Payback time for LED hangar lighting is in terms of months, not years, and you can start reaping the rewards sooner than you think. When you switch to LED aircraft hangar lighting, you can expect to enjoy a nicer, well-lit, eco-friendly, and cost-effective home for your treasured aircraft. Contact us today to get a quote on a LED lighting specification for your aircraft hangar.